Guide to the Forum
This will detail the features of this forum, so you can understand how it operates.
Forum Text Editor Guide​
This will detail how to use the Text Editor on the forum.
Firstly, this is what the Forum Text Editor looks like:

Example of posting an introduction thread in The Lobby
Text editing options​
B stands for Bold text
I stands for italic text

T

T

stands for

text

size
A stands for

Font

type
U stands for underline text
S stands for text straight-through
Color editing options​
You can select a color from the default colors
You can use a hex color
You can erase the color that was set
Linking text options​
You can link text with the editor
List options​
Ordered list, which is a numbered list
Unordered list, which uses bullet points
Indent, equivalent to putting text one tab inwards
Outdent, which puts the text outwards
Text alignment options​
Align text left,
Align text center,
Align text right,
Justify text
Paragraph text options​
You can set to normal text
You can set to heading text, which will enlarge and space the paragraph
Heading text also adds a contents menu on the post, which requires a blank line between it to auto link.
Image upload/linking options​
You can upload an image (which has an upload limit)
You can link an image
Emotions/Emojis​
This is a menu of emotions or emojis that can be put into posts
Gifs​
You can search and place gifs or animated gifs into posts
Table options​
You can create tables to put into posts
Horizontal line​
This adds a horizontal line into a post
Media options​
You can insert media urls from various sites
You can upload audio files (which has an upload limit)
Insert code​
Options to display code in posts
Quote/Spoiler tags​
Quote/spoiler tags allow images or text to be hidden
Line break options​
Shift + Enter stops line breaks between quotes in the text editor.
Undo/redo options​
Undo/redo options allow actions in the editor to be reversed or completed again
Remove formatting options​
Remove formatting from posts with the eraser
This will not work if the formatting is set in BB code view, which is the [ ] icon.
BB code editing view​
This view allows viewing the BB code formatting of a post
This view is important to edit/fix/add code that is hard to view in visual mode
Preview mode​
This shows the true preview of the post/thread, unlike the visual view (default)
More options menus​
More options menus will display depending on the size of your screen
More options menus will show additional options, such as

sup

1
Full BB Code List​
To view all the other BB Codes available visit
BB Codes in Help
User Profile/account options menu​
This allows you edit all aspects of your forum account
Forum Position Color Codes​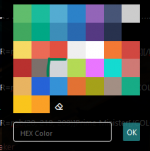 All of these colors exist in the forum text editor, though most exist after this point in green
Delegate
[COLOR=rgb(180, 218, 85)]Delegate[/COLOR]
Vice Delegate
[COLOR=rgb(234, 118, 255)]Vice Delegate[/COLOR]
Prime Minister
[COLOR=rgb(20, 219, 209)]Prime Minister[/COLOR]
Assembly Speaker
[COLOR=rgb(207, 122, 117)]Assembly Speaker[/COLOR]
Deputy Speaker
[COLOR=rgb(233, 180, 97)]Deputy Speaker[/COLOR]
Cabinet or Cabinet Ministers
[COLOR=rgb(38, 99, 215)]Cabinet or Cabinet Ministers[/COLOR]
Deputy Ministers
[COLOR=rgb(53, 146, 215)]Deputy Ministers[/COLOR]
Court Justice or Court
[
COLOR=rgb(226, 114, 52)]Court Justice or Court[/COLOR]
Councillors of Lazarene Security or Council on Lazarene Security
[COLOR=rgb(165, 161, 26)]Councillors of Lazarene Security or Council on Lazarene Security[/COLOR]
Executive Council or Executive Councilors
[COLOR=rgb(163, 143, 132)]Executive Council or Executive Councilors[/COLOR]
Citizen or Assembly
[COLOR=rgb(23, 172, 134)]Citizen or Assembly[/COLOR]
Legislation
[COLOR=rgb(250, 197, 28)]Legislation[/COLOR]
Mandate
[COLOR=rgb(251, 160, 38)]Mandate[/COLOR]
R
oot administrator
[COLOR=rgb(209, 213, 216)]root administrator[/COLOR]
Last edited by a moderator: