Staff member


Joined

Jun 12, 2018
Messages

1,747
Feather

Nation
Region
1. Forum Integrations
This forum is integrated with Discord and Spotify, which means that you can receive alerts from this forum in the LazCorp Discord, and you can share what music you are listening to.

Integrating your Discord or Spotify Account can be done through your:
Connected Accounts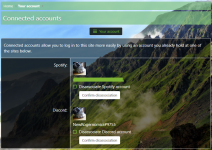 Managing Alerts
Discord Alerts from this forum can be managed alongside the other alerts in your Preferences
General Alerts which appear on this forum in the bell icon area can also be managed in your Preferences
Sharing Threads with Discord
Depending on the forum permissions in parts of the forum, after clicking on the dropdown to the right of watch, you can promote a thread to Discord: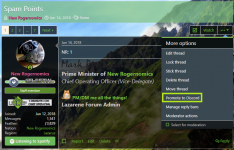 Here is the area where you select the post to share: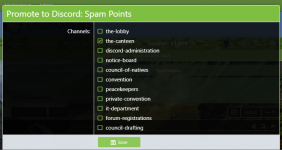 After you click Save the first post in the thread will be sent to Discord channel selected.
Spotify View

If you click on Listening to Spotify on your profile or others profiles, you can see what they are listening to: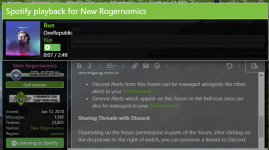 Clicking on the song will take you to your Spotify.
2. Awards and Trophies
These are either awarded automatically as a result of an activity, such as posting, or because you were given one manually.
Managing Alerts
Award/Trophy alerts from this forum can be managed alongside the other alerts in your Preferences
3. Forum Deletion

This feature allows this forum to be fully compliant with the EU General Data Protection Regulation, and other international laws, and should be for if you want all your data wiped.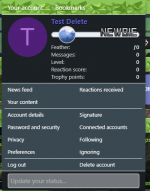 How Deletion Occurs
You are asked to provide your account password.
You are asked to confirm the deletion and provide a reason for the deletion, which can be anything you wish like a good bye message.
Within two days your account will be deleted, and an email will be sent informing you one day before deletion.
Your account will automatically be wiped from the database, and be non-recoverable.
If you just want an username change however do not use forum deletion, as it deletes your posts.
You can click the change button in Settings to do this:
Account Details
Last edited: